Melbourne-Based Cleanaway Relies On Scania Trucks To Meet Efficiency, Productivity & Safety Goals
Cleanaway, a waste management company based in Melbourne, purchased 18 Scania trucks last year to fulfill a contract with the Brisbane City Council. The order consisted of 12 Scania R 560 V8 and six Scania G 480 prime movers, which the company uses to haul either bulk tippers or rear ejection loaders.
The G 480 models are responsible for handling single trailer rear ejectors with payloads of up to 22 tonnes and side tipper B-double trailers with payloads of up to 33 tonnes. Scania says the trucks are used to "transport non-recoverable general waste from four resource recovery stations to landfill sites, with the aim of reducing environmental impact as much as possible."
Positive Results
So far, Cleanaway's new additions have had positive results in Brisbane, including improvements in efficiency, productivity, safety, and general performance in carrying out waste handling services. "We have safely and efficiently transported 500 kilotonnes of waste over 1.2 million kilometres throughout capital city traffic in just one year," says Shannon Gorman, Cleanaway's Landfill and Logistics Manager at the Brisbane City Council Resource Recovery and Innovation Alliance, Solid Waste Services. The fleet also boasts a world-class, industry-leading, integrated in-cabin telematics system providing the highest possible standards of safety compliance, route efficiency, vehicle management and reliability."
Emphasis On Safety
Cleanaway is dedicated to providing a safe working environment for its employees and contractors, and the company believes "that all workplace incidents, injuries, and illnesses are preventable," Gorman says. Cleanaway also believes that health and safety are not secondary factors, but rather crucial to the "success and sustainability" of the business and the communities served. "Accordingly, it was not simply chance that Cleanaway decided to partner with Scania to deliver this next generation fleet boasting world class safety and market leading performance," Gorman adds.
Related Articles
Scania Blue Stream goes with the flow
View Details
Scania to introduce new freewheeling retarder
View Details
Scanias express route to fuel savings
View Details
Scania Year end Report January to December 2015
View Details
Scania charges up Electric Avenue
View Details
Scania to unveil its new truck generation
View Details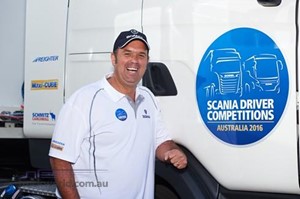 Glenn Yogi Kendall wins Scanias Truck Driver Competition
View Details
View More News
View all Related Ads