Melbourne-Based Haulaway Chooses Scania P-Series Trucks For Fuel Efficiency, Maintenance & Monitoring Advantages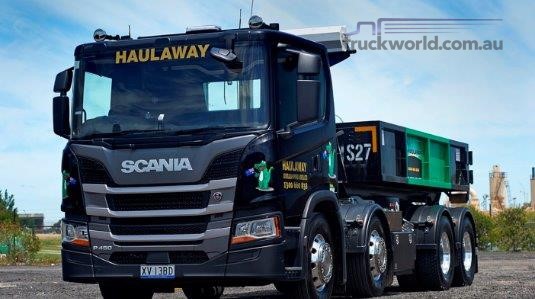 Haulaway, a waste management specialist based in Melbourne, recently added two New Truck Generation (NTG) P 450 8x4 hooklift trucks to its fleet, featuring the haulier's trademark crocodile logo and black-and-gold livery. It's a move that will help the company keep up with changes in the "domestic and waste industry," which Scania says "is becoming more sophisticated and regulated each year."
So far, Haulaway is happy with the results it is getting from the new truck, especially where fuel efficiency is concerned. Where before the company was getting around 2.4 kilometres per litre on its older models, it is now getting around 3.0 kilometres per litre.
Haulaway's P-Series trucks also come with five-year Repair & Maintenance contracts that will help the company manage unpredictable maintenance costs. Instead, the company pays the same fee each month for coverage and gets to take advantage of Scania's MAX24 uptime promise, which is crucial because Haulaway runs its trucks 20 hours per day, five to six days per week.
A Part Of The Family
"We have found dealing with Scania, you're not just buying a truck. We have been impressed with the whole package from start to finish. It's the holistic approach. It's no longer a piece of metal with an engine in the middle, it is a tool we use every day, as part of the business. The truck is a part of the family," says Jake Hilbert, sales manager at Haulaway. "We have had very prompt attention from Scania. Account management is very good, from start to finish, and not just the purchase, but driver training, the repair and maintenance contract, the whole package. We like the Scanias because of the technology in them, the fuel burn, as well as safety systems for the drivers, and the ease of access to the cab."
Monitoring & Analytics
Hilbert admits that Haulaway hasn't put an emphasis on fleet monitoring solutions in the past, but with the solutions available from Scania, he can now see "the efficiency advantages available to us from knowing where a truck is located, where it has been, exactly when it was there, and what its relative utilisation has been." The company can also track jobs in real time from the moment a customer signs up for service through to the invoicing phase.
Two other important features Scania provides is onboard weigh scales and fuel burn data gathering. Hilbert explains that his customers often need "a second set of data to back up the tip-off scales . . . for accreditation and compliance," while others need it "to support statements they make in their stock market reports." Fuel data is also crucial because more and more customers are asking for information about carbon footprint, and Hilbert only expects the number of those requests to grow in the coming years.
Related Articles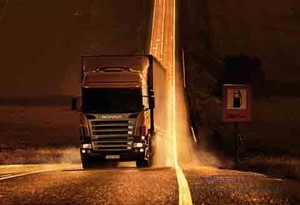 Scania introduces new Service Contracts
View Details
Scania presents the Svempa Red Pearl R 999
View Details
New Scania SCR six-cylinder engine family launched as part of modular line-up
View Details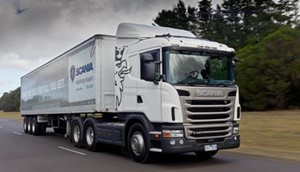 Scania works to boost operator profits
View Details
Optimised for uptime and efficiency – Scania Streamline is back
View Details
Valuable fuel savings driven by the new Scania Opticruise with performance modes
View Details
Scania Streamline – Interior changes in detail
View Details
View More News
View all Related Ads