New, Customised Scania S500 Serving Melbourne-Area Contractor Well
The Scania R420 8x2 rigid curtainsider that owner, driver, and contractor Gabriel Badea used to drive provided him 615,000 kilometres of service with no problems over 10 years. The "workhorse" could pull a 27-tonne payload "up hills without complaining because it had so much torque," he says. Despite some people still mistaking the truck as being nearly new due to the care Badea poured into it, he recently decided it was time for a new hauler. Based on his experience, he opted for an all-blue S500 from Scania's S-series, which he uses to deliver building products across Melbourne and surrounding areas on daily runs.
Power & To Spare
Badea primarily delivers rebar, trusses, and other large wood and fabricated metal construction components, receiving assistance from an integrated 21.5-metre Effer crane with a 780-kilogram lift capacity. Because he makes deliveries to multiple sites a week, including some for the first time, quickly determining the best truck position for the safest off-loading is a must. "There's a decent reach with this crane, and builders are always happy if you can deposit the load as close to where they need it as possible," Badea says. Though he doesn't travel considerable distances or carry especially heavy loads, Badea says "this truck has more than enough power and capacity for whatever I might have to do."
In addition to its 13-litre, six-cylinder, 500-horsepower engine, Badea's S500 features a completely flat floor and "a nice big and comfortable" European cab. "It's like being in a mobile office, which is what I wanted," he says. The truck also features premium leather seats, a wood-rimmed steering wheel, dashboard with chrome trim, ergonomically placed controls and switches, and extra USB ports. Badea also sourced high-quality bespoke trimmings from Italian and Estonian suppliers, and customised a mirrored stainless-steel panel supporting the indicator, tail, and running lights himself. "I love how it looks, especially at night with all the running lights illuminated," he says.
Tailored To Fit
Badea's truck is covered by 5-year/500,000-km service that's part of Scania's maintenance programme. Rowan Bouwmeester, Scania new truck account manager at Dandenong, says, "This S500 is a magnificent example of how Scania allows its customers to tailor a truck to meet their exact needs."
Related Articles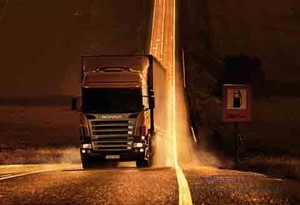 Scania introduces new Service Contracts
View Details
Scania presents the Svempa Red Pearl R 999
View Details
New Scania SCR six-cylinder engine family launched as part of modular line-up
View Details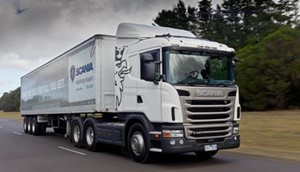 Scania works to boost operator profits
View Details
Optimised for uptime and efficiency – Scania Streamline is back
View Details
Valuable fuel savings driven by the new Scania Opticruise with performance modes
View Details
Scania Streamline – Interior changes in detail
View Details
View More News
View all Related Ads