Padstow-Based Orange Bins Adds Two New Scania NTG P 360 Trucks For Hauling Skip & Hook Bins
Orange Bins, a refuse collection and skip bins hire firm located 22 kilometres southwest of Sydney in Padstow, recently purchased two new Scania NTG P 360 trucks, moving away from lighter-duty vehicles from another marque. The company also owns a Scania hooklift truck. Orange Bins co-owner and Operations Manager Paul Torbay is quite pleased with them thus far.
Ticking All The Boxes
"The new Scanias tick all the boxes for me: air suspension all round, disc brakes, plenty of power for the job and the comfortable cab," Torbay says. "Some days we can be headed as far south as Wollongong or Nowra, on other days as far west as Katoomba. I'm always happy to go the extra hour for a good customer, and they appreciate the effort."
The 6x2 P-series trucks will transport skip bins with capacities ranging from 2 to 13 cubic metres at a pace of around six to eight bin movements each day, but Orange Bins also offers hook bins with capacities of between 10 and 30 m3. These bins are used for a wide range of applications, including construction rubbish removal, demolition, excavation, and more. Due to these environments, "visibility, manoeuvrability, and being able to cope with congested streets are key buying criteria," Scania says.
A Better Relationship
"I was concentrating my fleet on one brand, but the relationship did not deliver for me. I already had a heavier Scania hook, so I made contact," Torbay says. "The Scania team couldn't do enough for me, answered all my questions, and came up with a specification that suited me. I know the Scania is a heavier truck than the Japanese, but the trade-off is a better ride, quieter cab, and greater driver comfort, as well as excellent durability. I am driving one of these trucks every day so comfort is important to me for every trip."
Word Of Mouth
Orange Bins relies on word of mouth and brand visibility over traditional advertising, so the company not only keeps its trucks clean, but also uses orange vehicle wraps and Alcoa Dura-Bright wheels to grab attention. "We do get a lot of cold calls for work and that must be from the visual impact of the trucks driving around all day," says Torbay.
Related Articles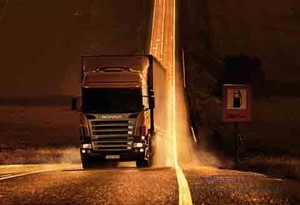 Scania introduces new Service Contracts
View Details
Scania presents the Svempa Red Pearl R 999
View Details
New Scania SCR six-cylinder engine family launched as part of modular line-up
View Details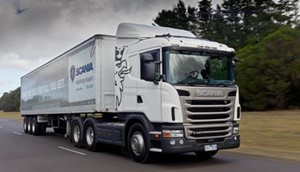 Scania works to boost operator profits
View Details
Optimised for uptime and efficiency – Scania Streamline is back
View Details
Valuable fuel savings driven by the new Scania Opticruise with performance modes
View Details
Scania Streamline – Interior changes in detail
View Details
View More News
View all Related Ads