Perth-Based ScreedPro Orders 7 Scania Prime Movers To Haul Custom Screed Manufacturing & Pump Trailers
ScreedPro, a Perth-based provider of screed for flooring, recently expanded its fleet with an order of seven Scania prime movers, all with six-cylinder, 450-horsepower (336-kilowatt) engines. The company already has several Scania trucks in its fleet and all of them, including the new units to be delivered over the course of the year, haul custom screed manufacturing and pump trailers.
The firm's trailers mix the screed on site using computer-controlled system and pump it "exactly where the tilers need it, saving time and reducing waste," Scania explains. Because the screed is mixed as it is needed, the process results in high consistency and quality from start to finish, eliminating the need for hand mixing and keeping workers safe.
Enabling Expansion
Because ScreedPro is growing on a national level, the company now specs its Scania trucks with sleeper cabs, and so far the drivers have given positive feedback for the cabs as well as the trucks' turning circle, visibility, and the Opticruise transmission. "All of this technology, which integrates seamlessly with the steering axles and reversing cameras on the trailers, makes it a lot easier to position the trailer as close as possible to where it is needed on site," says Lee Stockdale, national sales manager for ScreedPro. "This reduces risk of damage as well as speeding up delivery of the screed for the customer, helping them to reduce their costs and improve their working efficiency as well."
Fully Integrated Process
ScreedPro has exacting needs when it comes to truck design and manufacturing, but Scania has stepped up to ensure seamless integration of the truck and trailer. Scania's location in Prestons commissions ScreedPro's pump trailers, which means the "truck and trailer combination leaves the Scania workshop as an integrated, complete unit," Stockdale explains. He says this not only saves the company time, but ensures that the truck and trailer are ready to go as soon as they leave the facility.
"I don't think that anyone other than Scania would have stuck their hand up to not only help throughout the design and construction process, but to take responsibility for the commissioning of our trailers," says Stockdale. "In operation, Scania will be responsible for servicing the trailer from the chassis down, as well as the prime mover, which also helps save us downtime."
Related Articles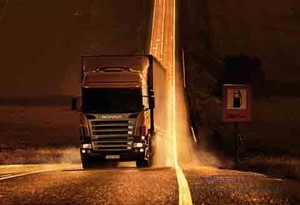 Scania introduces new Service Contracts
View Details
Scania presents the Svempa Red Pearl R 999
View Details
New Scania SCR six-cylinder engine family launched as part of modular line-up
View Details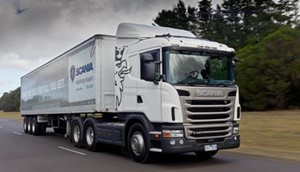 Scania works to boost operator profits
View Details
Optimised for uptime and efficiency – Scania Streamline is back
View Details
Valuable fuel savings driven by the new Scania Opticruise with performance modes
View Details
Scania Streamline – Interior changes in detail
View Details
View More News
View all Related Ads