Scania's AXL Autonomous Concept Truck has No Cab
Scania's new AXL heavy mining truck concept goes a step beyond other self-driving vehicles being developed by the manufacturer and others. Unlike other autonomous trucks that still require a human being on board to take over in complex situations, the AXL doesn't even have room for a human driver.
"We already have self-driving trucks in customer operations," says Scania's head of R&D, Claes Erixon. "However, so far they have been with room for a safety driver who can intervene if necessary. Scania AXL does not have a cab and that changes the game significantly."
Coming Together
Scania pulled together experts from several fields to design and build the AXL, which in essence is a modified NTG G14 truck with an autonomous module where the cab used to be. The rugged, eight-wheeled AXL features four-wheel steering and runs on biofuel. The intelligent front module, or computing and networking unit, was designed to be modular so it can be adapted to other trucks in the Scania lineup.
Eyes & Brains
"For autonomous vehicles, software is in many ways more important than hardware," Scania says. The intelligent front module's computers, 4G modems, network devices, and other electrical components slide out to the side on a rack for easy access.
Along with GPS guidance, the AXL uses seven video cameras and front, rear, and side radar to sense the surrounding environment. But because those technologies don't have enough resolution to quickly discern people and objects—and because it takes powerful software to "imagine" a 3D map from their essentially 2D input—Scania equipped the AXL with lidar (light detection and ranging) and sweeping lasers. The sensors are placed around the vehicle so that they can cover for each other in case one is damaged.
"We need there to be overlap between the sensors, so that one can be a backup to take over from the other if needs be," says Fredrich Claezon, System Architect for Autonomous Vehicles. "What happens if the camera and radar suggest conflicting information? Which of these sensors should we trust? With lidar, we can obtain a better basis for decisions."
Scania also designed the AXL to be human-friendly. When it "sees" a person, it turns on lights to acknowledge the fact. Also, the HMI (Human Machine Interface), a white stripe around the vehicle at about chest level, visually indicates the machine's awareness of human workers' presence around it.
Beyond The Mine
The AXL's software will improve based on real-world mine testing and customer input, especially before future autonomous Scanias can be adapted to public roads.
"In this case, we see what we need to see," says Scania Autonomous Systems Development Engineer Magnus Granström. "Driving in a mine is fairly simple and predictable. If you're driving in a more dynamic and less predictable environment, more work is needed. Scania AXL would most probably not be fit for city driving but considering the envisioned environment and planned assignments, it's sufficiently smart."
"The development in self-driving vehicles has made great strides in the past years," says Erixon. "We still don't have all the answers, but through concept vehicles like Scania AXL we break new ground and continue to learn at great speed."
Related Articles
Scania and ATA launch guide for prospective owner drivers
View Details
Scania to offer ready to work trucks in Australia
View Details
Valuable fuel savings driven by the new Scania Opticruise with performance modes
View Details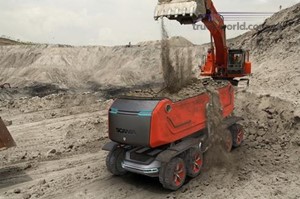 Autonomous transport solutions open up a world of opportunities Scania
View Details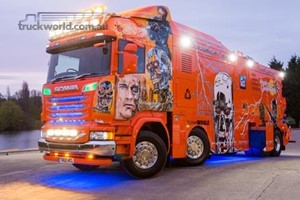 Scania and the rise of the machines
View Details
Scania looks back on a year of record sales levels
View Details
Unique defensive training concept gives drivers the feeling of what its like to overturn
View Details
View More News
View all Related Ads