Scania's New V8 Engine Range Includes 770-Horsepower Variant
Scania recently announced a whole new range of V8 engines set to provide more power, torque, and efficiency than the current Scania V8 options. The V8 range is highlighted by a 770-horsepower (566-kilowatt) engine with a maximum torque of 3,700 newton-metres, and the rest of the new V8s provide 530 hp (390 kW), 590 hp (434 kW), and 660 hp (485 kW) of rated power. Scania says the new engines should also provide significant fuel savings—up to 6%—when combined with Scania's new G33 Opticruise gearbox.
Fuel Savings & Lower Carbon Footprint
The new Scania V8 engines feature a wider torque spread to allow the rear-axle gearing to be altered for lower revs. The rear-axle gearing can offer fuel savings of up to 3%, depending on application and operating conditions, and according to Scania, and another 2% in fuel savings comes from extensive fine-tuning and development to reduce internal friction and improve compression ratios, as well as from the powerful Engine Management System. Scania says the final 1% in fuel savings comes from the improved design in the G33 gearbox.
"A reasonable saving on markets where longer and heavier combinations are permitted can be in the vicinity of 3,000–4,000 litres annually for a truck with our new V8 – a tremendous achievement in every respect," says Alexander Vlaskamp, Scania's executive vice president and head of sales and marketing.
All models in the new Euro 6-compliant V8 engine range support the use of HVO (Hydrotreated Vegetable Oil), and the 590-hp variant can also run on biodiesel. Scania also added a new concept where AdBlue is injected twice: once directly after the exhaust brake and a second dose at the "normal" position in the silencer itself. With the extra dosing, the aftertreatment strategy is improved and also contributes to better fuel efficiency.
Power To Spare
The massive 770 hp V8 engine, called the DC16 123, is able to produce greater power than the previous top-of-the-line power plant with the help of bigger injectors and a fixed geometry turbocharger using ball bearings.
"We have a clear picture of where the first 770-hp trucks will start making a difference," says Vlaskamp. "There is a strong rationale for ordering such a truck. These customers are looking for the best total operating economy, well aware of the fact that more payload means better efficiency, increased revenue and higher residual value."
Arduous conditions like forestry and long-haul operations that run at high gross train weights for extended periods of time are thought to be good fits for the high-power V8 engines. Scania says the new V8 engine range will begin in the European market; the company hasn't yet provided details on Australian availability.
Related Articles
Scania and ATA launch guide for prospective owner drivers
View Details
Scania to offer ready to work trucks in Australia
View Details
Valuable fuel savings driven by the new Scania Opticruise with performance modes
View Details
Henrik Henriksson to become Scanias new President and CEO
View Details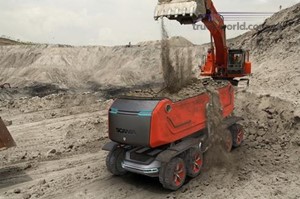 Autonomous transport solutions open up a world of opportunities Scania
View Details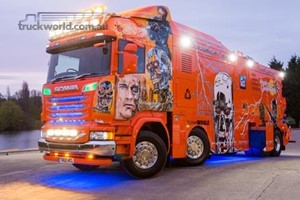 Scania and the rise of the machines
View Details
Scania links up with Ericsson to test 5G mobile technology
View Details
View More News
View all Related Ads