Scania Announces Its Lineup For The 2019 Brisbane Truck Show
Scania will highlight its New Truck Generation at this year's Brisbane Truck Show from 16 to 19 May. The company will have several models on display, including an R-series prime mover with a V8 Euro 6 engine that produces 650 horsepower and 3,300 newton metres of torque. There will also be a G 500 capable of B-double haulage and a G 500 XT with a tipper body for construction work, both of which have six-cylinder Euro 6 engines.
Emphasis On Sustainability
Scania will have a gas-powered P 340 Euro 6 model with two compressed natural gas tanks on display as well. It offers reduced CO2 emissions, so it is well-suited for urban operations. "We have taken a conscious decision to display all our trucks as Euro 6 compliant, to illustrate how we are leading the shift towards a sustainable transport system for Australia," says Dean Dal Santo, director of sales for Scania Trucks in Australia. "Our customers, and our customers' customers are now demanding a smaller carbon footprint from transport logistics in order to meet their own environmental targets, and Scania is fully equipped to deliver on this need."
Safety Features, Telematics & More
Every truck on display at the show will have side curtain, rollover airbags, LED headlamps and tail lamps, and a host of advanced driver assistance technologies, including adaptive cruise control, electronic stability programme, advanced emergency braking, and lane departure warning. They also feature Scania Retarder and Scania Opticruise with automated gear change, an electric cab tilt function, and Scania's Communicator telematics system.
"With more than 4,000 Scania vehicles in Australia using our Scania telematics system, we are able to analyse and demonstrate, week by week, how Scania's solutions can save businesses significant amounts of money, which makes them financially stronger, better employers, securing jobs for Australians in the industry," Dal Santo says.
Related Articles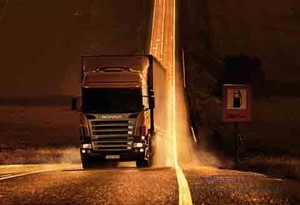 Scania introduces new Service Contracts
View Details
Scania presents the Svempa Red Pearl R 999
View Details
New Scania SCR six-cylinder engine family launched as part of modular line-up
View Details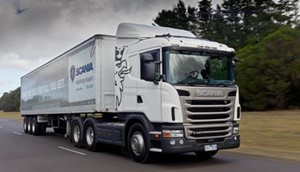 Scania works to boost operator profits
View Details
Optimised for uptime and efficiency – Scania Streamline is back
View Details
Valuable fuel savings driven by the new Scania Opticruise with performance modes
View Details
Scania Streamline – Interior changes in detail
View Details
View More News
View all Related Ads