Scania Australia Joins Convoy For The Cure 2021
When the Convoy For The Cure rolls through Townsville on May 30, viewers will notice a recently refurbished blue 1985 Scania 112 6x4 tipper leading the charge of the 200-truck cavalcade. The event seeks to raise money to support research to find a cure for a serious strain of brain cancer affecting children. Scania is the face of the public appeal, and Scania Australia and independent authorised Townsville dealer Honeycombes Sales and Service will make a sizeable donation to the Convoy For The Cure.
An Important Cause
"We're seeing an increasing number of new Scanias on the road in the region and so it's good to be able to have a heritage model involved in the convoy," says Honeycombes' Kevin Jones. "The event has been running for five years and is always well-patronised and attracts a lot of attention in the town. We hope that the appeal of the peoples' truck will result in a strong flow of donations to support this very important charitable cause."
A Truck Familiar To Townsville
This historic truck is one of six Scanias owned by cane farmer Ross Gofton, who purchased them when the city council decided to retire them. The 112 has a new paint job and new seats, and is dedicated to static display and charitable activities. The truck features a blue cab, red chassis, and white tipper. The convoy, which will include trucks from as far asway as the Northern Territory, will drive through Townsville with a peak speed of around 15 km/h with all the trucks meeting in a park outside town.
Get Involved
"The Scania is dubbed the 'Peoples' Truck'," says convoy promoter Todd Martin. "We're encouraging members of the public to make a donation to the cause and get their name or logo on the side of the tipper body. In previous years this concept has been a great way of including Australians who are not truckies, but who want to make a contribution to the fundraising. We're sponsored by the local Power100 radio station which will promote the event throughout the run-up and during the day as well."
Source: Scania
Related Articles
Scania and ATA launch guide for prospective owner drivers
View Details
Scania to offer ready to work trucks in Australia
View Details
Valuable fuel savings driven by the new Scania Opticruise with performance modes
View Details
Henrik Henriksson to become Scanias new President and CEO
View Details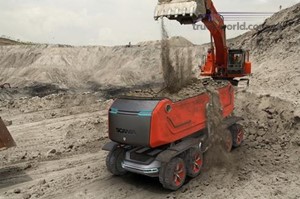 Autonomous transport solutions open up a world of opportunities Scania
View Details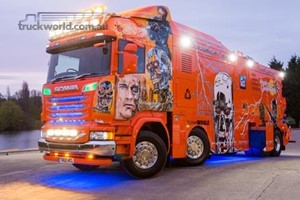 Scania and the rise of the machines
View Details
Scania links up with Ericsson to test 5G mobile technology
View Details
View More News
View all Related Ads