Scania Delivers First Front-Lift Waste NTG To Grasshopper Environmental
Grasshopper Environmental, a family-owned waste management and recycling service business in Sydney, has added the first front-lift New Truck Generation waste truck to their fleet. Presently, the business operates six Scania trucks including three older P 440 hooklifts and two new NTG P 450 hooks. The front-lift truck weighs 17 tonnes empty and 27.5 tonnes fully loaded, and has a Euro 6-compliant engine. Grasshopper Environmental signed a five-year service agreement and will use Scania Prestons for any necessary work.
Dramatic Cost Improvements
"We have just added a new P 450 Euro 6 front-lift to our fleet. This is the first front-lift NTG, and we have already seen dramatic running cost improvements over the older non-Scania truck it replaced," says Ryan Noble, Grasshopper's Fleet and Asset Manager. "Partly this is because the new truck is running the Scania automated Opticruise transmission, which is more frugal than the fully automatic unit we had in the previous truck. The Scania engine does not need to rev as high, and the low-rev, high-torque characteristics have already shown fuel savings. We're covering around 350 kilometres a day in these trucks, where the operating environment is arduous."
A Big Step Up
The company assigns one driver per vehicle with the exception of vehicles that work around the clock. This gives the drivers more accountability for the vehicle's condition and requires a better understanding of its operations. So far, the company says their drivers are very pleased with the Scanias. "They're reporting that the NTG vehicles are massively improved over the older ones, in terms of technology, looks, comfort, quietness and quality. The P 450 is certainly a big step-up. The drivers love the adaptive cruise control and are getting used to the lane departure warning," says Ryan.
Related Articles
Scania and ATA launch guide for prospective owner drivers
View Details
Scania to offer ready to work trucks in Australia
View Details
Henrik Henriksson to become Scanias new President and CEO
View Details
Scania to unveil its new truck generation
View Details
Driving the shift to a future of sustainable transport
View Details
Scania links up with Ericsson to test 5G mobile technology
View Details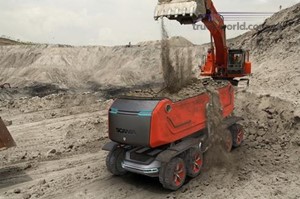 Autonomous transport solutions open up a world of opportunities Scania
View Details
View More News
View all Related Ads