Scania R 650 NTG Trucks Provide A Quiet, Comfortable Journey For Day-Old Chicks
Sydney-based Multiquip recently expanded its 100-plus truck fleet with two new Scania R 650 NTG trucks to increase productivity within the firm's poultry operations. The new R 650 NTGs will be used to transport live, day-old chickens from Multiquip's hatchery facility at Maldon (around an hour south of Sydney), to farms in the NSW Riverina area of Griffith. The Scania NTG tractors combine with two battery/diesel hybrid HatchTraveller trailers, further optimising the transport environment for a smooth and quiet ride.
Safety Is Job One
Multiquip General Manager Jason Mikosic cites safety as a critical deciding factor when making equipment purchase decisions. The new R 650 NTGs feature multiple SRS air bags within the cab, active emergency braking, adaptive cruise control, lane departure warning, and the provision of automatic park-brake application. And when coupled with the company's standard fitment of infra-red, fatigue detection systems and dash cameras, the safety features collectively contribute to increased safety for Multiquip's drivers. "The vision we have for Multiquip's future is to increase our focus on safety within our transport operations. I believe that any successful operator needs to have this philosophy as a main focus," Jason says.
Improved Economy
Many of the Scania trucks in Multiquip's fleet were R620 units, and it was a natural progression to select R 650 NTG trucks with a Euro 6-compliant, 16.4-litre V8 engine rated for 650 horsepower. Jason explains "While it's early days yet as far as fuel economy comparisons go, and different work tasks produce different figures, we can already identify fuel savings from the new trucks, of which we have another two working in A-double configuration within our quarry sector, for which our drivers are reporting reduced fuel consumption over the older models." The NTG trucks' fuel savings, combined with battery-powered cooling and heating systems on the trailers, are expected to return substantial savings over the previous equipment.
Related Articles
New Scania SCR six-cylinder engine family launched as part of modular line-up
View Details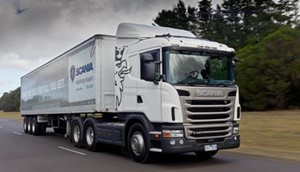 Scania works to boost operator profits
View Details
Optimised for uptime and efficiency – Scania Streamline is back
View Details
Valuable fuel savings driven by the new Scania Opticruise with performance modes
View Details
Scania Streamline – Interior changes in detail
View Details
Scania Blue Stream goes with the flow
View Details
Scania to introduce new freewheeling retarder
View Details
View More News
View all Related Ads