Scania To Highlight Its New Truck Generation At The Brisbane Truck Show
Scania will be bringing several New Truck Generation models to the 2019 Brisbane Truck Show being held 16 to 19 May at the Brisbane Convention & Exhibition Centre. The popular manufacturer will showcase four trucks from three of the new model lines.
"The Brisbane Truck Show gives Scania the first opportunity to display to the market its comprehensive array of NTG trucks, from the innovative P 340 CNG-fuelled 6x2 rigid, to the Euro 6 650-horsepower V8-powered R 650," says Scania Trucks in Australia's Director of Sales, Dean Dal Santo.
The P 340 rigid truck, unusual in its specs for Australia, has dual compressed natural gas tanks and low CO2 emissions. It's intended for urban delivery work. The R 650 prime mover, meanwhile, is a long-haul truck with 3,300 newton metres of torque.
Besides the models mentioned above, Scania will show two new G-series six-cylinder prime movers at Brisbane. The G 500 is an over-the-road freighter suitable for interstate, high-cubic-capacity, B-double runs. The G 500 XT construction truck headed for Brisbane will sport a steel tipper body.
Common Features
All of the NTG trucks at the show will be compliant with Euro 6 emissions standards, the manufacturer says.
"Our customers, and our customers' customers are now demanding a smaller carbon footprint from transport logistics in order to meet their own environmental targets, and Scania is fully equipped to deliver on this need," Dal Santo says.
Among the safety features of the new truck models are Scania's Advanced Emergency Braking, Lane Departure Warning, Adaptive Cruise Control, and Electronic Stability Programme features. The NTGs also have side curtain roll-over airbags for both the driver and passenger, as well as LED headlights and taillights.
Other features of the next-gen trucks include the Scania Communicator telematics system, an electric cab tilt mechanism, the Scania Retarder braking system, and the Scania Opticruise automatic gear changer with user-selectable modes.
Related Articles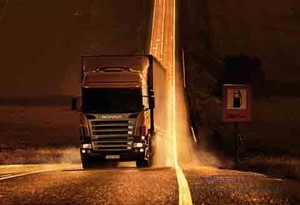 Scania introduces new Service Contracts
View Details
Scania presents the Svempa Red Pearl R 999
View Details
New Scania SCR six-cylinder engine family launched as part of modular line-up
View Details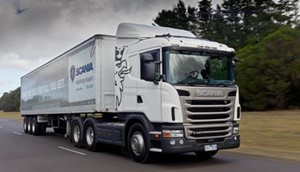 Scania works to boost operator profits
View Details
Optimised for uptime and efficiency – Scania Streamline is back
View Details
Valuable fuel savings driven by the new Scania Opticruise with performance modes
View Details
Scania Streamline – Interior changes in detail
View Details
View More News
View all Related Ads