UD Trucks Launches New Euro 5 Medium- & Heavy-Duty Truck Range
UD Trucks recently unveiled its new Euro 5 range of heavy-duty Quester and medium-duty Croner trucks. The manufacturer says the updated trucks will be introduced in fast-growing and emerging regions worldwide to support efforts to adopt more stringent international emissions standards.
Better For The Environment
With air pollution being one of the largest health threats in the world and global carbon emissions predicted by the International Energy Agency to not only rebound to pre-COVID levels, but grow by 4.8%, cleaner fleets are imperative. The Euro 5 standard reduces NOx emissions by about 43% compared to Euro 4 for a significant reduction in the carbon footprint of a vehicle.
The new Euro 5-compliant trucks feature selective catalytic reduction (SCR) technology to increase environmental protection and fuel economy. First introduced by UD Trucks in 2004, SCR also boosts uptime with the use of AdBlue, a diesel exhaust fluid which reduces the amount of harmful gases released into the atmosphere. AdBlue is available at all authorized UD Trucks dealerships and can also often be found in fuel stations, workshops, and online.
In addition to Euro 5 compliance and SCR technology, the new Quester and Croner boast an updated instrument cluster with real-time fuel coaching to help drivers improve their technique and drive more fuel-efficiently.
"In today's world, sustainability is more important than ever," says UD Trucks Senior Vice President, International Sales, Jacques Michel. "COVID-19 is also placing more emphasis on a more sustainable approach to driving a post-pandemic recovery. Modern and efficient logistics is vital to keep the world moving in these fast-evolving times, and our latest launch will ensure greater resilience for businesses while ensuring environmental impacts are minimised."
About The Quester
The heavy-duty Quester comes in eight model choices and features UD Telematics for real-time vehicle tracking and geofencing, as well as ESCOT automated manual transmissions that reduce the driver's need to shift by an average of 1,000 to 1,500 times a day by automatically selecting the right gear. The truck's lighter tare weights and optimised driveline further improves fuel economy by up to 10% compared to the previous Quester.
The Croner Up Close
The medium-duty Croner can be configured for use in a broad range of specific applications and has an aerodynamic cab design that UD says reduces drag by 5% compared to previous models. The truck also has the Allison automatic transmission and an ergonomic cabin interior with active and passive safety features to protect the driver, the cargo, and surrounding traffic.
Source: UD Trucks
Related Articles
UD Demolishes The Opposition With Perth Salvage And Recycling Company
View Details
Safety is Standard for UD Trucks
View Details
UD Trucks' New Condor Medium Duty Trucks Take Flight
View Details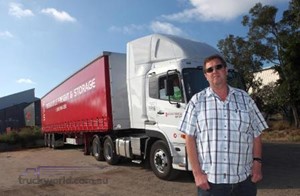 UD Trucks At Home In Australia And Africa
View Details
UD Proves It Has The Wood On Other Trucks
View Details
UD Tops HEAVY DUTY Sales in Japan and Records Good Growth in Australia
View Details
UD Trucks rally to the cause for leading Australian championship team
View Details
View More News
View all Related Ads