UD Trucks Launches Newest Quon Heavy-Duty Truck In Hong Kong
UD Trucks has launched the All-New Quon in Hong Kong; the truck is the most recent addition to a range that was first introduced in 2013. Also a popular model in the Australian market, the heavy-duty Quon features "innovation that puts people first," according to UD Trucks, which includes improved driver comfort and better fuel efficiency.
Higher Payloads, Aftersales Support
The new Quon supports higher payloads, meaning drivers can deliver more cargo per trip to boost revenue. The company also offers extensive aftersales support aimed at keeping trucks on the road, which is particularly important during the COVID-19 pandemic. Support includes parts and service, 24-hour road support, telematics, a mobile workshop, service agreements and planning, and more.
Tractor Unit & Rigids
The updated Quon range consists of one 38-tonne tractor unit and six cab-and-chassis rigids ranging from 24 to 30 tonnes. The tractor unit comes standard with an 11-litre, 420-horsepower (313-kilowatt) Euro 6 GH11 engine and 12-speed new generation ESCOT-VI automated manual transmission with an acceleration limiter and soft cruise control. The rigids are ideal for a wide range of application, including working as a tipper, mixer, or plow. Other features include an electronic braking system with anti-lock braking, disc brakes, and an anti-slip regulation system.
Related Articles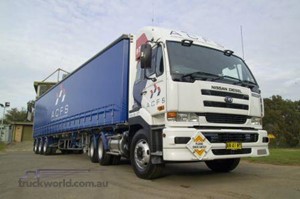 UD delivers for major container transport operator
View Details
UD TRUCKS appoints new dealership in SUNRAYSIA
View Details
UD Launches a New Era with Innovative Heavy and Medium Duty Truck Range
View Details
The new UD medium duty range PK9 and PK10
View Details
UD Trucks has continued its theme of adding vital safety features
View Details
UD Debuts New MK Range
View Details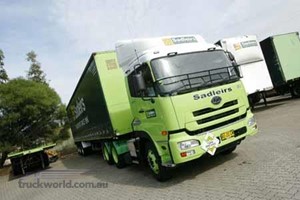 Sadleirs' green fleet adds a truly green UD
View Details
View More News
View all Related Ads