Daimler Truck Building Its First Complete Fuel Cell Factory For Future Volvo Trucks & Rolls-Royce Emergency Generators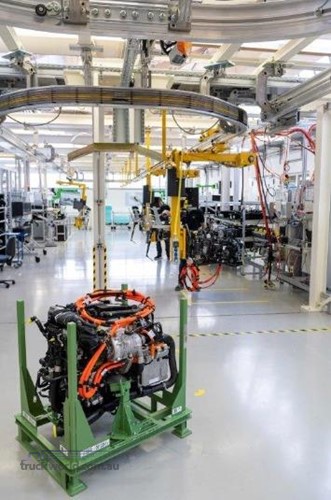 Daimler Truck AG, after 10 years of developing production methods and processes for hydrogen fuel cells, has announced that it is creating a template production facility in Stuttgart, Germany. The factory will handle every stage of zero-emission fuel cell production, Daimler says, including membrane coating, stack production, and final manufacturing of finished fuel cells. The powerplants will eventually be used in Daimler/Volvo trucks and Rolls-Royce generators. The Stuttgart site will serve as a model for future Daimler production facilities.
Carbon-Neutral Power
"We are pursuing the vision of the CO2-neutral transportation of the future," says Martin Daum, Chairman of the Board of Management of Daimler Truck AG and a Daimler AG board member. "The hydrogen-based fuel cell is a key technology of strategic importance in this context."
Hydrogen-powered fuel cells produce energy with only heat and water as byproducts, making them environmentally friendly candidates for future vehicles and power sources. One of their advantages over fully battery-electric vehicles and equipment is their ability to be refueled in seconds instead of a half-hour or more recharge cycle.
"We are now consistently following the path towards the series production of fuel cells and are thus doing absolutely pioneering work—and this goes beyond the automotive industry," Daum says. "We will invest a very substantial sum in the coming years to achieve this."
"As with the development of fuel cell technology, we benefit also in the field of production from our experts' many years of experience," says Head of Daimler Truck Fuel Cell Andreas Gorbach. "This gives us an enormous competitive advantage: We are already in a position to work specifically on one of our most important milestones, namely the technological template for the series production of fuel cell systems on a large industrial scale."
A New Type Of Factory
Fuel cell production necessitates special facilities and processes. Certain steps require advanced "clean room" facilities to prevent contamination of the components, along with strict temperature and humidity control. Daimler is borrowing processes and technologies from unusual sources, such as the packaging field, in order to develop a factory that can turn out fuel cell stacks in a quick and cost-efficient manner.
Real-World Uses
After signing a preliminary, non-binding agreement in April, Daimler Truck and the Volvo Group plan to offer heavy-duty and long-haul commercial vehicles powered by fuel cells. Daimler expects them to emerge in the second half of the 2020s decade. Rolls-Royce Power Systems AG also intends for its MTU brand to use stationary versions of Daimler fuel cells in emergency power generators for data centers.
Related Articles
Mighty Power – New Volvo FH16 ready to launch
View Details
The Volvo FH16 – Optimised for the heaviest
View Details
The iron mark – a symbol of Volvo for 80 years
View Details
New Generation Dynafleet unveiled at 2009 Queensland Truck and Machinery Show
View Details
VCV Townsville team wins national VISTA final
View Details
Volvo – Visionaries in Truck Safety
View Details
Volvo Group Australia welcomes Tony Abbott to the Wacol factory
View Details
View More News
View all Related Ads