Volvo FL Electric Delivery Truck 'Doing The Job Of A Diesel Truck' In Melbourne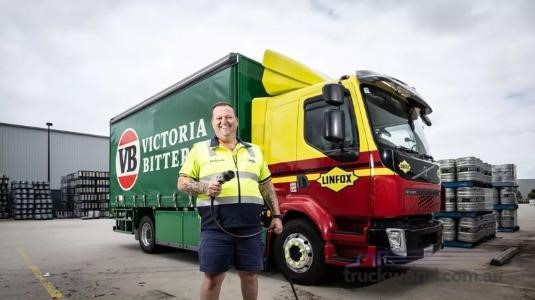 Volvo's FL Electric rigid is its first electric truck on the road in Australia. Longtime Linfox delivery driver Rob Smith has been driving one for more than seven months, covering some 6,000 kilometres (3,728 miles) and more than 5,200 kilowatt-hours in that span of time.
"This truck's doing well—it's doing the job of a diesel truck," Smith says. "Trucks like this one are the future."
"You can't get a much better voice of authority than the end user of the product," says Paul Illmer, Volvo Group Australia's vice president, Emerging Technologies. "We can continue to point out the real-world benefits of zero-emissions vehicles, but it's ultimately the people that interact with this vehicle on a daily basis that will help educate others to their advantages."
Peace & Quiet
Smith uses the Volvo FL Electric to deliver Victoria Bitter and other Asahi Beverages beer to pubs, restaurants, and bottle shops. His base of operation is the BevChain Distribution Centre in Melbourne's western reaches. The zero-tailpipe emissions vehicle has a range of up to 300 km (186 mi) and a recharging time of as little as 2 hours.
"The truck itself is actually quite peaceful to drive," says Smith. "In some ways, it's just like any other truck but in others it's smoother, quieter, it's enjoyable. When I hop out of the truck, I don't hear engine noise and I don't have the fumes, none of that."
"A smooth drivetrain, lack of fumes and noise create a calmer work environment," says Illmer, "but it's also the flow-on benefits to society as a whole that will drive towards a future of cleaner, quieter cities. This truck represents the thin end of the wedge on our zero-emissions journey in Australia, and that journey is accelerating faster than many can imagine."
"Linfox is thrilled to see this new electric vehicle inspiring positive conversations as we lead the way in sustainable transport," says Linfox Pty Ltd Executive Chairman Peter Fox. "Our customers are enjoying more sustainable logistics solutions and people on our streets are starting to see the everyday benefits of zero-emission vehicles."
Overnight Deliveries
The Volvo FL Electric is a two-axle model with a gross vehicle weight (GVW) of up to 16 tonnes (17.6 U.S. tons). Its single electric motor can transmit up to 130 kilowatts (174 horsepower) of continuous power through a two-speed gearbox. The rigid truck has a charging time of 2 hours on 150 kW of DC power or 11 hours on 22 kW of AC.
Volvo sells the FL Electric in a 4x2, two-wheel-drive configuration with either a day cab or short sleeper (comfort) cab. It's suitable for urban transportation tasks such as deliveries, and can even work at night thanks to its quiet operation. The manufacturer offers service and support packages for charging, route and range planning, battery monitoring, and other aspects of operation.
The FL Electric has an innovative traction control system and air suspension. It's available with an electric power take-off (PTO) and up to four 500-kilogram (1,100-pound) lithium-ion batteries for a total of 265 kWh. The truck offers various driving modes to adjust its performance, operator comfort, and energy usage levels.
Find The Right Volvo
TruckWorld.com.au showcases a selection of new and used Volvo trucks for sale, including FL models.
Source: Volvo
Related Articles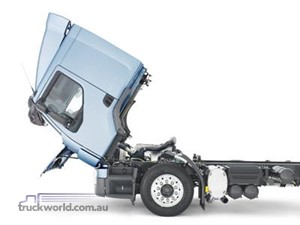 New Volvo FE – For Total Performance
View Details
Mighty Power – New Volvo FH16 ready to launch
View Details
Volvo Trucks takes aim at our biggest challenge ever
View Details
Traffic Safety Research - Volvo Trucks
View Details
Better for the Environment, Built for your Bottom Line – 2008 Volvo Engines
View Details
The iron mark – a symbol of Volvo for 80 years
View Details
The Volvo FH16 – Optimised for the heaviest
View Details
View More News
View all Related Ads