Volvo FM Crew Cab Gives Firefighters What They've Asked For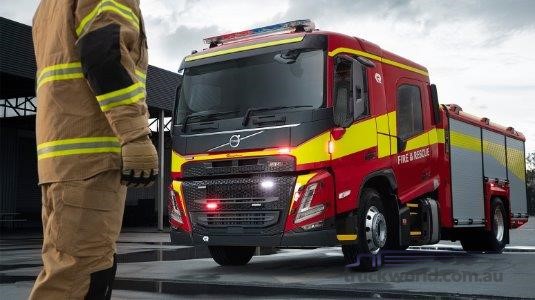 Firefighters and emergency services personnel have a new vehicle option now that the Volvo FM Crew Cab has come to Australia. Volvo gathered input from its customers and worked with emergency vehicle bodybuilder Rosenbauer Australia of Brisbane to design a "more human-centric" cabin focused on performance, ergonomics, and safety.
"I'm delighted to launch the new Volvo FM Crew Cab," says Volvo Trucks Australia Vice President Gary Bone. "A truck especially designed for firefighters based on real-world feedback by firefighters."
The new Volvo FM Crew Cab will debut at the 2021 Australasian Fire and Emergency Service Authorities Council (AFAC) exhibition in Sydney, which runs 17 to 20 August.
Spacious Interior With Safety Features
The new Crew Cab seats up to nine people and has a high internal roof height of up to 1,610 millimetres (63.4 inches). Its excellent visibility is due to its large windows, low door line, and big rearview mirrors. These can be supplemented by up to eight optional cameras to provide the driver with all-around situational awareness.
"We focused on supporting the well-being of our firefighters with better operational logic, keeping information easily accessible at their fingertips, and providing better ergonomic features," says Bone. The truck's steering wheel offers a neck-tilt adjustment and control buttons. The Volvo Dynamic Steering system—another optional feature—reduces the driver's steering effort.
"We looked at improving the cabin with features like greater access with the egress fold-down step, wide door openings, and enhanced grab rails," Bone says. The cabin doors open to 79-degree angles in front and 75 degrees in the back. The internal grab rails have a bright orange finish for immediate recognition when necessary.
"Firefighters were also front-of-mind when we designed the cabin interior, ensuring that the interior is safely lit whilst also preserving low-light vision," Bone says. "And we intend to build these vehicles right here in Australia."
Global Expertise For Local Solutions
Volvo developed the new Crew Cab based on the EN 1846 emergency vehicle standard. The cab was impact-tested according to the ECE Occupant Protection Regulation 29-03.
"This partnership between Volvo Trucks and Rosenbauer Australia brings together two organisations committed to keeping people safe both on and off the road," says Rosenbauer Australia Managing Director Arthur Wiemer. "Drawing on global expertise to provide an optimised local solution for Australian firefighters shows that we have both the agility and ability to target the specific requirements of emergency services personnel."
Powertrain & PTO
The Rosenbauer-equipped Volvo FM Crew Cab is available with an 11- or 13-litre engine with Euro 6 or Euro 5 emissions ratings. Volvo offers the truck in 4x2 and 4x4 configurations with an optional 2,000-newton-metre (1,475-pounds-foot) power take-off.
Transmission options for the FM Crew Cab include a six-speed Powertronic torque converter automatic or a 12-speed I-Shift automated manual transmission, the latter of which can be ordered with optional crawler gears.
Source: Volvo
Related Articles
Volvo launches its 2008 range
View Details
Gold to Volvo Trucks
View Details
Mack and Volvo Trucks launch North American optimization plan
View Details
Volvo in unique Bio-DME project
View Details
Volvo Trucks introduces its 2011 product line up: our Cleanest, Meanest and Strongest trucks ever!
View Details
Queensland floods highlight the importance of freight safety
View Details
VCV Townsville team wins national VISTA final
View Details
View More News
View all Related Ads