Penske Working With Daimler Trucks North America To Tailor All-New Western Star 47X To Local Vocational Applications
Following the introduction of the all-new Western Star 47X vocational truck to the North America market in late September, Penske Commercial Vehicles says it's working closely with manufacturer Daimler Trucks North America (DTNA) to adapt the 47X to local on- and off-highway markets. Penske is the exclusive importer and distributor of Western Star trucks here and in New Zealand, and Western Star is a Daimler Trucks brand. The 47X joins the all-new Western Star 49X that Daimler introduced as part the new X-Series in September 2020.
"It's very exciting to see the 47X unveiled today in the United States following on from the launch of the 49X last year," says Craig Lee, Penske Australia general manager of on-highway trucks. "We are thrilled to be launching the new Western Star range in late 2022 in Australia, and shortly after that in New Zealand."
Welcome To The X-Series
Daimler Trucks developed the Western Star X-Series trucks for vocational use and says the new 47X will enable the platform to meet entirely new vocational applications. The truck is roughly 90.7 kilograms (200 pounds) lighter than a like-for-like 49X, which makes it a good fit for configuration as a concrete mixer or bulk hauler. The 47X has a standard 2,835-millimetre (111.6-inch) bumper-to-back-of-cab (BBC) length that's well-matched to regions or jobs necessitating a shorter vehicle length, such as drywall trucks. For owners who need to meet federal or regional bridge law requirements with mixers or super dumps, an optional 2,814-mm (110.8-in.) BBC is available.
The 47X comes with a Detroit DD13 Gen 5 engine by default, but options for Cummins L9 and X12 engines are also available. The DD13 Gen 5 provides higher compression ratios and a new swirl piston design that enhances combustion and efficiency. The 47X also features an all-new DT12-V transmission with Rock-free, Off-road, and Paver work-ready modes to meet specific vocational jobs. Other features include a steel-reinforced aluminum cab that provides 13% additional space vs. competitors' cabs. Additionally, the 47X's 7.6 metres (24.8 feet) of forward visibility is a 27.9-mm (11-in.) improvement over the 49X, and leads the industry, Daimler says. The hood also boasts strong, lightweight composite construction and a patented ISO Tech Hood Suspension system that's resistant to bending and cracking.
Sure To Be Impressed
Lee says local Penske teams will continue working with U.S. Western Star team members to tailor the 47X and 49X to local markets. Penske will also continue working with its dealer network to ensure high-level support is in place, Lee says.
"Boasting lighter, yet tougher, cabin frames and steel-reinforced cabins, and with features including wrap-around dashboards, our customers will surely be impressed when they see the trucks in person and step foot into the cabin," Lee says.
Source: Daimler Trucks North America
Related Articles
Hartwigs Deliver Their 1000th Western Star
View Details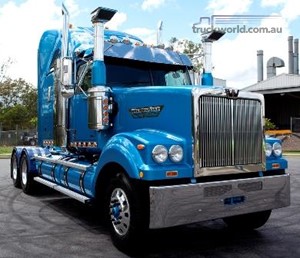 Western Star releases 30th anniversary limited edition trucks.
View Details
Western Star Trucks Australia release 30th anniversary commemorative calendar
View Details
Western Star Mid America Show Stopper Headed for Australia
View Details
New iPhone app from Western Star custom designed for Australian truck drivers.
View Details
Penske Helps Bring Back The Bullet Burnout Truck, A Heavily Customised Western Star 4800
View Details
Western Star Introduces the All New 5700XE
View Details
View More News
View all Related Ads