Western Star 49X: Daimler Trucks Unveils Its Next-Generation Vocational Truck In North America
When designing its new 49X vocational truck, Daimler Trucks brand Western Star went with a clean-sheet design approach highlighted by an all-new frame and X-series cab built to meet the needs of demanding vocational applications. The 49X is built on a chassis that's both stronger and lighter than its 4900 predecessor, offering a weight savings of over 350 pounds (158.8 kilograms) in like-for-like specs and a Resisting Bending Moment (RBM) strength rating of up to 3.7 million pounds-inch on the single-channel frame rail. Penske, the official distributor of Western Star Trucks across Australia and New Zealand, says it worked closely with Daimler Trucks throughout the development process, and the firm expects the 49X trucks to enter the local market in late 2022 or 2023.
Ready For Harsh Conditions
Robust design elements are found throughout the new 49X platform. One example are its C-channel frame reinforcements rated for an RBM of 5.4 million inch-pounds. Western Star also points out that multiple parent rail front frame extensions options are available for applications requiring front-mounted equipment, such as a plough.
"We will be rolling out a testing program next year ensuring the new trucks are a perfect fit for our local conditions and applications," says Randall Seymore, president of Penske Australia & New Zealand. "We will continue to support our current Western Star truck portfolio which has been proven to thrive in our tough and unique conditions."
A Flexible Platform
Western Star says the versatile platform was designed with upfit flexibility in mind. The 49X's back-of-cab packaging, for example, includes forward-mounted DEF tanks, multiple air tank mounting locations, and optimised fuel tank sizes, help the 49X to simplify the upfit process.
A Tougher, Safer Cab
Western Star says the steel-reinforced aluminum X-Series cab offers 13% more space while being 8% lighter than competing vocational cabs. For optimal stability and to reduce driver fatigue, the new cab mount system uses vocational cab isolators mounted outboard. Visibility is improved, as well, thanks to a single-piece roped-in windshield that Western Star says is 28% larger, with a 37% improved wiper zone. The sloped hood, which is enabled by splayed frame rails and a lowered engine position, features a patented ISO Tech Hood Suspension system that behaves similarly to a coil-over shock suspension to absorb and dissipate vibration from the chassis for greater hood durability.
Related Articles
Hartwigs Deliver Their 1000th Western Star
View Details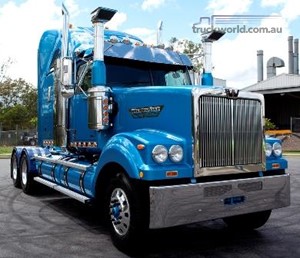 Western Star releases 30th anniversary limited edition trucks.
View Details
Western Star Trucks Australia release 30th anniversary commemorative calendar
View Details
Western Star Mid America Show Stopper Headed for Australia
View Details
New iPhone app from Western Star custom designed for Australian truck drivers.
View Details
Penske Helps Bring Back The Bullet Burnout Truck, A Heavily Customised Western Star 4800
View Details
Western Star Introduces the All New 5700XE
View Details
View More News
View all Related Ads